Description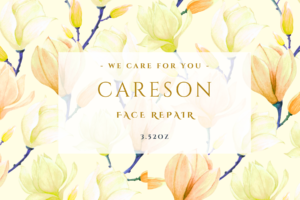 CARESON
FACE REPAIR
Brightening tightening and repairing mask
Spirulina, Turmeric Root powder and Safflower seed oil
3.52oz/100g
For All Skin Types
INSTRUCTIONS
After cleaning face, apply preferred amount mask evenly on the face.

Avoid eye area and lips.

Leave on 15-20 minutes or so till the mask is completely dry.

Gently remove and rinse with water.
RECOMMENDED USAGES: 1-2 times a week
INGREDIENTS
Kaolin, Water, Bentonite, Aloe Leaf Juice, Turmeric Root Powder, Glycerin, Caprylic/Capric Triglyceride, Cetyl Alcohol, Phenoxyethanol, Safflower Seed Oil, Rosehip Seed Oil, Acetic Acid Fermentation Phenol (Vitamin E), Retinyl Palmitate (Vitamin A), Niacinamide, Lemon Peel Extract, Tea Leaf Extract, Spirulina Extract, Hop Extract, Cucumber Fruit Extract, Calendula Extract.